Carrie Nation was married to an alcoholic and faced economic hardship. These apparently were a primary cause of her desperate attempts to ban alcohol in Kansas, although she claimed a religious pretense.
PBS provides this quote about Nation, said to be her self-description
…a bulldog running along at the feet of Jesus, barking at what he doesn't like…
Her crusade, although based on her own struggles, also resonated with others who believed widespread use of alcohol during the Civil War (to boost morale, deaden pain or fight disease) was to blame for the "problem" of alcohol after conflict ended.
Reflecting upon those seeking temperance, and noting their arguments, [Confederate physician William Henry Taylor] wrote, "These may be formidable objections to the use of alcohol, but the military surgeon of my day would have thought that they were offset by the fact, demonstrated by innumerable instances, that it promptly rallies the deep sunk spirits of the wounded soldier, and snatches him from the jaws of imminent death."
In reality, while General/President Grant was well-known for being the most heralded officer and leader in America and not afraid to take a drink, veterans were not necessarily more likely to drink and there were several economic and cultural factors that were behind the rise of alcohol consumption.
Heavy taxation ended after the war, which made alcohol more affordable. A huge boom of immigrants from Ireland and Germany brought a strong drinking culture with them in the mid-1800s. These two elements combined were a significant influence on the direction of American social customs by 1900. A large consumer base emerged and saloons opened and inexpensive beer was brewed to support them.
In this context Nation soon became famous for violent outbursts and her irreverence for damaging property. Few men dared challenge her strong-arm antics, which eventually helped ignite the prohibition movement.
The following newspaper clipping, found in the Kansas State Historical Society in Topeka, KS shows the headline "Carrie Nation Wages War"; from The Wichita Daily Eagle (1890-1906), December 28, 1900, Page 6, Image 6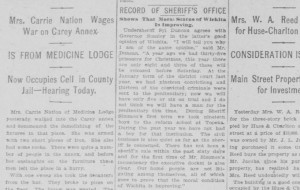 Mrs. Carrie Nation of Medicine Lodge walked into the Carey annex and commenced the demolishing of the fixtures in that place. She was armed with two short pieces of iron. She also had some rocks.
In short, prohibition was an attempt by social conservatives to block changes in American culture, despite obvious underlying economic and cultural foundations. Today it is easy to see why prohibitionists not only failed to stop the trend towards consumption but actually refined American ingenuity to circumvent regulations.