Let's get one thing out of the way. IBM's Watson was instrumental to the Nazi Holocaust as he and his direct assistants worked with Adolf Hitler to help ensure genocide ran on IBM equipment.
When IBM's director of worldwide media relations, John Bukovinsky, was asked about the disclosures in 2001 and 2002 of the company's involvement in facilitating the extermination of millions of Jews, Gypsies and others, he replied, "That was six years ago [sic]." When a reporter pointed out that the Holocaust itself was some 60 years ago, Bukovinsky quipped, "So what. What is the point?"
The idea that IBM would want to market their big data system after the man notorious for meeting with Nazi leaders to deliver counting machines for genocide…it's a pretty big sign that the evils of Watson are something to keep an eye out for even in the present day.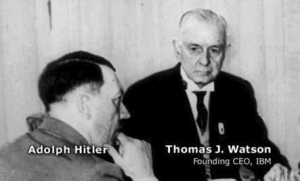 As Edwin Black wrote in "IBM and the Holocaust: The Strategic Alliance between Nazi Germany and America's Most Powerful Corporation":
Thomas Watson was more than just a businessman selling boxes to the Third Reich. For his Promethean gift of punch card technology that enabled the Reich to achieve undreamed of efficiencies both in its rearmament program and its war against the Jews, for his refusal to join the chorus of strident anti-Nazi boycotters and isolators and instead open a commercial corridor the Reich could still navigate, for his willingness to bring the world's commercial summit to Berlin, for his value as a Roosevelt crony, for his glitter and legend, Hitler would bestow upon Thomas Watson a medal — the highest it could confer on any non-German.
Fast-forward to today and IBM's Watson has been charged with user location tracking using an innocent-sounding weather app.
In a complaint filed Thursday in California state court, the city alleges IBM used detailed location data from users for targeted advertising and to identify consumer trends that might be useful to hedge funds, while at the same time telling consumers their location would only be used to localize weather forecasts. The suit doesn't allege personally identifiable information was sold.

"Unbeknownst to many users, the Weather Channel App has tracked users' detailed geolocation data for years," the complaint alleges, calling the Weather Channel's actions "unfair and fraudulent." The complaint also says the Weather Channel profited from the data, "using it and monetizing it for purposes entirely unrelated to weather or the Weather Channel App."
Again, it's hard to fathom that IBM would want to name a big data machine Watson. It's even harder to fathom that someone in IBM thought lying about user location tracking to monetize ill-gotten data was a good move…but then I just go back to them naming their machine Watson.